UPDATES FROM THE

 

POLLINATOR TEAM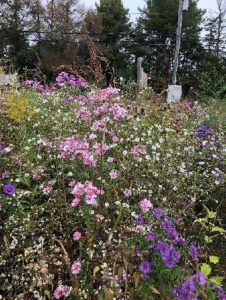 UCC OF WESTERLY MEADOW GARDEN 2020
Just a reminder as you begin working in your gardens this year, be aware of whether you are planting true native plants or cultivars which have been specifically bred to look a certain way.  Natives are best for pollinators and are the easiest to care for since they have a built in tolerance for our climate and soil conditions!  A complete list of native plants to consider is available on the Pollinator Table in the sanctuary.
In addition to our Attic Sale scheduled for Saturday, May 14th, the Pollinator Team will again be sponsoring a Plant Sale.  Our inaugural venture into selling our green wares proved to be quite successful last year, so we are hoping to have even more plants to sell this year.  The Pollinator Team started planting seeds at the beginning of March, but it isn't too late to plant!
As you clean out your gardens, please think of us!  Do you have an abundance of herbs, perennials, thinned out bulbs or rhizomes?  Pot them up in any pot you have available and drop them off at the church the week before the sale or even the morning of.  Feel like starting some fast-growing seeds now?  Go for it! You'd be surprised at what people are looking for.  Last year we sold almost every green item that was in our area! Perennials, veggies, flowers, bulbs, you name it, it sold!
We also would appreciate any donations of pots that you may have hiding in your garage or basement.  You can drop those off at the church any Sunday between now and the sale.  There will be a box at the door in the upper parking lot narthex to receive them.  If you need pots, there are already some available in the box.
Thanks so much!  Now, get those hands dirty!!!
*****
Pollinator Team Tip
A reminder from the Pollinator Team to help your gardens have a good rest and still take care of pollinator insects who may be over-wintering in the stalks of your garden.  Let sleeping critters rest!
*****
7 Things You Can Do for Pollinators
1. PLANT FOR POLLINATORS
● Habitat opportunities abound on every landscape – from window boxes to acres of farms to corporate campuses to utility and roadside corridors – every site can be habitat.
● Utilize plants native to your area (or at the least, non-invasive for your area).
● Utilize the Ecoregional Planting Guides and the Garden Recipe Cards to create or enhance your pollinator garden.  Decide among the plant material options – seeds, plugs, plants or a combination.
● Know your soil type and select appropriate plant material.
● Plant in clusters to create a "target' for pollinators to find.
● Plant for continuous bloom throughout the growing season from spring to fall.
● Select a site that is removed from wind, has at least partial sun, and can provide water.
● Allow material from dead branches and logs to remain as nesting sites; reduce mulch to allow patches of bare ground for ground-nesting bees to utilize; consider installing wood nesting blocks for wood-nesting natives.
2. REDUCE OR ELIMINATE THE IMPACT OF PESTICIDES.
● Check out the Pesticides Learning Center on the Pollinator Partnership website to learn more about the interactions between pollinators and pesticides!
● Where possible, avoid pest problems in the first place by burying infested plant residues, removing pest habitat, and planting native plants that encourage natural enemies of pests.
● Practice Integrated Pest Management (IPM).
● If you must use pesticides, read and follow ALL label directions carefully.
3. REGISTER AS A BEE FRIENDLY FARMING GARDEN
● Register your home or community garden with Bee Friendly Farming Garden to showcase your commitment to pollinator health!
● Along with your registration, you can opt to receive your very own BFF Garden sign, to encourage others to do the same.
● Your registered garden will appear on the Bee Friendly Farming map, along with any photos you choose to submit.
● Apply here!
4. REACH OUT TO OTHERS – INFORM AND INSPIRE
● Utilize all the materials available to help you tell the story of pollinators.
● Tell local and state government officials that you care about pollinator health.
5. SUPPORT LOCAL BEES AND BEEKEEPERS.
● Buying local honey supports the beekeepers in your area.
● If you're concerned about the number of chemicals used in agriculture, buy organic.
● If you're concerned about contributions to global carbon emissions, buy local.
6. CONSERVE ALL OF OUR RESOURCES; USE LESS AND REDUCE YOUR IMPACT.
● Pollinators are dramatically affected by extremes in weather.
● Climate change puts pressure on native ranges and overwintering sites.
7. SUPPORT THE WORK OF GROUPS PROMOTING SCIENCE BASED, PRACTICAL EFFORTS FOR POLLINATORS.
*****
POLLINATOR GARDEN INVITES YOU!!!!!!

 
from the UCC Westerly Pollinator Team
The Pollinator Gardens Team is ALWAYS looking for more folks who are interested in sustainable gardening practices.  The best way to learn is by working alongside us!  For more information on how you can be involved with this vitally important eco-justice ministry.
*****
The Pollinator Gardens Team is ALWAYS looking for more folks who are interested in sustainable gardening practices.  The best way to learn is by working alongside us!
Please contact our church for further information.
---
Peace Pole Dedication
On October 6th, 2019 our congregation gathered together to celebrate World Communion Sunday by holding a Peace Pole Installation.  Please click on the video below to view the photos from our dedication service.
UCC Westerly Pollinator Gardens 2019
Please watch this video that showcases the beautiful pollinator gardens and labyrinth that grace our landscape here at the UCCW.   
*****
We are now registered as an official pollinator gardens habitat site by two organizations:
Pollinator-Pathways.org
Million Pollinator Gardens Challenge