UPDATES FROM THE

 

POLLINATOR TEAM
THOUGHTS ON SUSTAINABLE GARDENING FROM OUR POLLINATORS TEAM!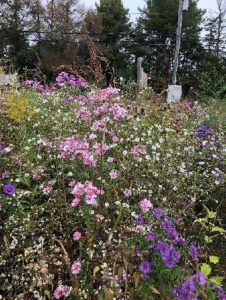 UCC OF WESTERLY MEADOW GARDEN 2020
POLLINATOR GARDEN ADVICE
 ABOUT 
WEEDS!!!!!!
from the UCC Westerly Pollinator Team
Yikes!  Just when our flowers are starting to bloom and we think our spring planting is done, what happens???  Weeds appear, seemingly out of nowhere.  What to do?  What to do?

 
Here are a few tips from your Pollinator Garden Team that may help you deal with your weedy problem without the use of dangerous chemicals.

 
First, and foremost, be sure that what you are pulling is actually a weed.  Maybe it is a wildflower that is essential for the continued existence of our pollinator friends.  Yes, most people hate those dandelions, but their flowers provide essential pollen in the early spring when few other options are available to our pollen-seeking friends.  And, those beautiful yellow finches use those flowers for nourishment.  Download an app, such as PictureThis, that will help you identify the plant before you pull it.

 
Second, there are ways to eliminate weeds that depend on several factors.

 
 If the weeds are in cracks in your sidewalk or driveway, you can use: o A solution of one gallon of white vinegar, 1 tablespoon of Dawn, and one cup of salt or Epsom salts.  Mix in a pump container and spray the culprits in the early morning of a sunny day.  This will kill what is above the ground but not always the roots.  You can eliminate the salt if you would like to have something other than weeds grow there again.

 
 A pot of boiling water might just do the trick, as well.

 
If the weeds are in your garden, DON'T use the vinegar solution, as it does not discriminate between what is a desired planting and what isn't.  You have several options here: o Being proactive is your best bet.  When you first establish your bed or right after spring cleaning it, place newspapers or cardboard on all exposed surfaces and then mulch over it.  Or, at least, mulch over the exposed areas.  These two options can also be done any time during the season.  Some gardeners recommend sprinkling corn meal over exposed areas.  Another option is to cover as much of the soil as possible with plants or desirable ground cover to limit the space available to the weeds.  Ever hear of Square Foot Gardening?  It's a very effective way to limit the weeds that grow in your veggie garden during the summer season.  Again, this limits the space available to weeds.

 
There is always the option of just yanking those weeds out as they appear.  Unfortunately, there are weeds, such as mugwort, that LOVE to be pulled and accept that challenge by growing more!

 
Lastly, remember that there are no methods to permanently eradicate weeds.  Simply put, Weeds Happen, whether we like them or not.

 
Most of the information for this article was drawn from our own experiences or from the web site:
How to Make Natural & Safe Homemade Weed Killer
The Garden Glove, where there is an abundance of additional information and explanations.

 
As an aside, the weeds in the gravel in the bell courtyard and in the cracks in the sidewalks and parking lots respond well, if not permanently, to the vinegar, Dawn, and salt solution.  As they are not part of our pollinator gardens, we invite anyone to come and have at it with them!!!

 
*****
The Pollinator Gardens Team is ALWAYS looking for more folks who are interested in sustainable gardening practices.  The best way to learn is by working alongside us!
Please contact our church for further information.
---
Peace Pole Dedication
On October 6th, 2019 our congregation gathered together to celebrate World Communion Sunday by holding a Peace Pole Installation.  Please click on the video below to view the photos from our dedication service.
UCC Westerly Pollinator Gardens 2019
Please watch this video that showcases the beautiful pollinator gardens and labyrinth that grace our landscape here at the UCCW.   
*****
We are now registered as an official pollinator gardens habitat site by two organizations:
Pollinator-Pathways.org
Million Pollinator Gardens Challenge