UNITED CONGREGATIONAL CHURCH OF WESTERLY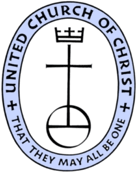 We are United Congregational Church, United Church of Christ.  We are a "united" people because our church is the result of the merger of two pervious congregations, The Pawcatuck Congregational Church and the Broad Street Christian Church of Westerly,  Our church is affiliated with the major Protestant denomination known as the United Church of Christ.
We Administer our own affairs, following the Congregational tradition.  We affirm the uniqueness of each person's faith journey and recognize the calling of each believer to be a discipleship.
Our Congregation is composed of people just like you, people looking for truth and meaning in an often difficult and confusing world.  At times we can be saints and at times we are sinners too.  We know we cannot always depend on ourselves, so we depend on Christ.
We are a community of individuals seeking together to follow Jesus.  With faith, hope, and love we will share the struggles and joys of life with you:
Growing up
Birth
Marriage
Raising children
Changing jobs
Illness
Death
We are a caring family that will serve, work, play, and worship with you.  If you are new to the area we can help you feel at home.
We are a community of God's people.  Here is how you can be a part of it:
Multiple educational opportunities
Women's Fellowship Gatherings
Men's Club monthly meetings
Adult Choir
Plenty of volunteer opportunities
For Children and youth:
Sabbath Circles Program
Confirmation
We serve locally and around the world.  We support Equal Exchange Fair Trade products, the Westerly Area Rest and Meals Center (WARM), and the Pawcatuck Neighborhood Center (PNC).  We also sponsor and support Alcoholics Anonymous and Gamblers Anonymous.